What other cartographers and geographers have said...

Waldo Tobler...the author of the First Law of Geography.
2005 - "I think that you would enjoy some of the items at: http://watermanpolyhedron.com/index.html". (this page)
Solstice, Volume XVI, Number 1, Summer 2005
In personal communication of 10/10/2010
"Thank you for sending these images. The analysis is particularly impressive and well done." Waldo

10/10/17 Gene Keyes...
"Unlike most world maps, it includes a laudable five degree graticule;
... Steve Waterman has produced a splendid octahedral map;
professionally done in a size and color that would make [B.J.S.] Cahill proud."


These maps should really be in every classroom.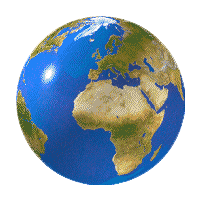 Try visually comparing different maps with an actual globe and see for yourself.

They show the equator clearly, as well as continental shapes,
distances ( within 10 % ), areas ( within 10 % )
angular distortions ( within 20 degrees ), and relative postions,
as a compromise: better than all other World maps.

No other maps have been able to handle the management of those characteristics collectively as well, as the Waterman World map. To still be teaching our youth with a Mercator or Robinson or the Winkel Tripel projection in the 21st century is a continuing academic problem that many, perhaps most, are not even aware exists.



Maps are shipped rolled [ never folded ].

SHIPMENT and HANDLING is FREE in US or Canada. Outside of US or Canada there is a charge of 30 US. Overseas shipments take 4-6 weeks to deliver. A 30 dollar "request for payment", will be sent ny me, via Paypal for those overseas orders.




You can have them with a glossy or matte finish: with the following widths.



Laminated maps are available in various sizes.
Poster width:height is 3:2.


map width
map cost
to order


36"

$99 US

48"

$139 US

64"

$229 US

80"

$339 US

96"

$439 US

120"

$549 US

144"

$729 US

192"

$1049 US

We also produce SPRING-ROLLER PULL DOWN MAPS
48" wide - $199 -- 64" wide - $299 -- 80" wide - $409

OTHER OPTIONS: we can add wooden rails to laminated map, we can print on synthetic paper, we can mount maps, and for other options call 1-514-489-8704 or email your questions to swaterman@watermanpolyhedron.com



Payment may be done by money order or by using PayPal.
[ you do not need to be a PayPal member to do this....just my email address ]

Orders will be printed and shipped within 3 business days of receipt of payment.